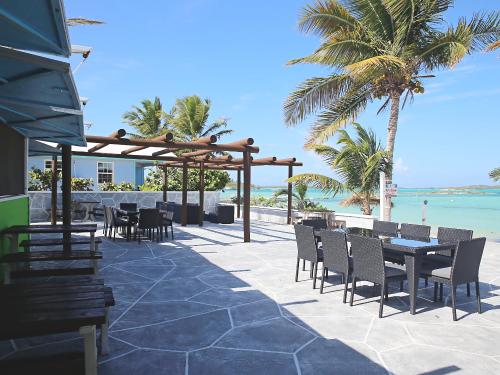 Splash! Bar & Grill is our on-location hideaway offering more than just food and drinks. With pool tables, board games, big screen TV's, and music, locals and tourists will find themselves having a great time here at Splash!
Atmosphere
Splash! Bar & Grill takes advantage of its beach front location, offering waterfront and pool front dining throughout the day and well into the evening. Our patio conveniently overlooks Elizabeth Harbor, providing magnificent views for guests.
Satisfying guests with great food, cold drinks, and a variety of entertainment options is our specialty, and the atmosphere at Splash! reflects our personality perfectly; easy-going and lots of fun. With our beach front location, customers have the luxury of dining on the patio with a drink in hand, while taking in the sweet scent of the ocean and enjoying the tropical breeze. Indoors, Splash! features swing style bar seating as well as tables for comfort and convenience. If you are looking for a friendly and inviting place to eat, play some pool, watch your favorite sports team, and have an all around good time, Splash! Bar & Grill is a great place to do so.
Dine
Our menu at Splash Bar & Grill was carefully constructed with our guests in mind. With it being one of the most comprehensive menus on the island, there is sure to be something appetizing for everyone in your party.
At Splash! you will find your favourite traditional western food varieties, as well as many seafood and Bahamian dishes to tantalize your taste buds! Not to mention, we have some of the best custom-to-order pizzas around. Whether you have dietary restrictions or are traveling with little ones, our talented chefs are able to accommodate your meal preferences.
Breakfast, lunch, dinner, or evening snacks, you will find something to satisfy your cravings anytime throughout the day. Take out is also an option should you wish to enjoy your meal in the comfort of your cottage or villa.
Drink
Splash! Bar & Grill offers a wide assortment of drink options. Whether you are sipping a cocktail, martini, or enjoying a nice cold beer, our selection aims to meet your expectations.
For guests looking to try new and local favorites, Splash! recommends the following: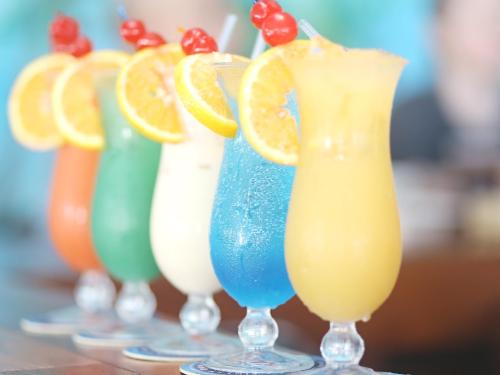 Local & Tropical Cocktail Favorites
Ø Sky Juice (also known as Gully Wash)
Ø Bahama Mama's
Ø Goombay Smash
Ø The Splash (by Anita)
Ø Strawberry and Mango Daiquiris
Popular Beers of the Bahamas
Ø Kalik
Ø Sands
Splash! Bar & Grill also offers many specialty drinks and in-house concoctions, offering guests an unlimited amount of beverage choices, many of which can be found playfully written above the bar.
For our visitors looking to relax on the patio, in the restaurant, or in the privacy of their own property with a nice bottle of wine, our bar offers a variety of reds and whites to enjoy and toast to good times.
Play
Splash! Bar & Grill is not only a place to come and enjoy a meal or a drink, it is also one of the best places in Exuma to come for games and entertainment. Furnished with pool tables and board games, as well as frequent live music, Splash! is a bustling hub of activity for locals and tourists alike.
Pool tournaments often take place, so be sure to check the schedule while visiting the bar. Board games are available for all and the treasure chest of toys is sure to keep the little ones busy.
Enjoy
In addition to board games and pool games, Splash! has six big screen TV's for your enjoyment and to ensure you can catch your favorite sports game while on vacation. Sit back, have a beer, and cheers to winning scores!